Are you tired of the same old, boring façade you have? Would you like to spruce up the look of your front yard? Do you have any ideas on how to dress it up without breaking the bank?
Worry no more. There are ways that you can do to give your yard a much-needed makeover.
Examine your yard
Whether you may have forgotten to pay attention or there were other more important things to attend to that took most of your time, seeing your front yard in such a bleak state can dampen your mood.
You wish you could have been more attentive. You may even berate yourself for not allocating a budget to fix up your lawn.
Whatever the reason may be, it's no use crying over spilled milk. What's done (or in this case, not done) is already in the past. Now that you have the time and resources to perk up your kerb, it's time to face the future with determination and a positive vibe.
Explore your options
The question now is, "where do I start?" or "how will I make my yard prettier?"
There are so many ways to spruce up your front lawn, and it is high time you do. It is the first thing that guests to your home will see so you should be naturally concerned on how it looks.
However, you might get overwhelmed with the myriad of options in the market nowadays. From the most traditional and ornate to the most modern and tech-laden yard accoutrements, you can easily get lost in the sea of choices.
To make your life easier, here are three trimmed-down choices you can choose from to glam up your yard:
1. Letterboxes
There is a certain appeal and rustic charm when you make a letterbox a major element of your front yard look. Aside from its practical uses, the charming look of a brick-in letterbox or the sleek silhouette of a modern freestanding letterbox can make a world of difference, however subtle.
As times have passed, the simple red letterbox with a single flag has been upgraded into so many versions. There are wall mounted types, ones you can mount on fences, or mount on decorative posts as well as freestanding letterboxes and even ones with multiple slots.
Letterboxes also come in different sizes, shapes, and colours. There are some that come in marine grade stainless steel – perfect for protection from the harsh outdoor elements. You can also opt for a warmer look with a pine timber panel.
New generation letterboxes also keep your security and privacy in mind with key lockable boxes, spring-loaded letter slots, and weather-resistant features to keep your parcels safe and sound.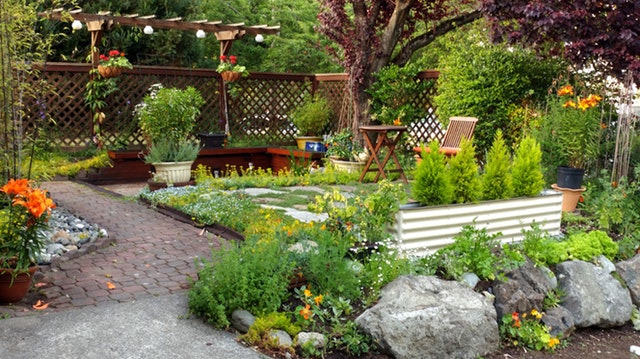 2. Plants
Greening up your yard is one of the most inexpensive ways to update its look. Not only will it provide a refreshing visage, it can also help your community with environmental benefits.
You can choose a simple grass lawn with creative placements of potted plants in corners. You can also plant bushes along the perimeter of your yard so it can also serve as your fence. You can use shrubs or you can use flowering plants to enhance the beauty of your yard. What's important is that there is symmetry. Take into consideration the colour, texture, and arrangement as well.
3. Paint
Another simple and not-so-costly investment is the use of paint. If you have an existing fence or wall that encloses your yard, a fresh coat of paint will definitely make a difference.
You can go with the same hue as the one you used before or if you want a completely new look, choose a colour that still goes well with your house theme. You can DIY the fence painting if you're confident with your painting skills. To ensure a more uniform stroke and get some helpful insider tips as well, you may opt to get a professional painter.
Simple Yet Stunning
The abovementioned ways of sprucing up your yard are very simple and relatively easy to implement. Most of all, they will not cost you an arm and a leg to effectively beautify your home exterior.
From stylish letterboxes to nature-friendly options like plants and bushes, you can certainly amp up your home façade in a simple way with stunning results.
AUTHOR BIO
Jay Flavell is the General Manager at Sandleford Holdings. He has been working in the DIY & Home Improvement industry since 2007 and has vast experience sourcing and developing products from overseas suppliers in the Far East. Jay has also been successful dealing with a number of major DIY & Home Improvement retailers throughout his career.
Related Post